Gratitude & Growth
~ Looking Ahead to 2018
ACISTE is growing! It's been a busy year of rolling out new programs and making new connections. Last month we graduated our first class of peer group facilitators, and that's just the beginning!
Here's what's on the horizon for 2018: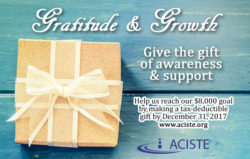 Fall 2018 professional conference in Chicago
New & improved online peer group facilitator training
New training development for first responders & family members
Collaborations with international spiritual emergence groups in the UK, Europe, Canada & Brazil
We are excited to expand our mission to raise awareness and create programs that meet the key integration needs of spiritual experiencers.
To assist us in this vital expansion, please consider making your tax-deductible gift. Help us reach our $8,000 goal by the end of 2017.We appreciate your generosity and look forward to an exciting year of programming in 2018!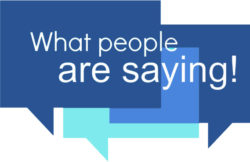 "I have a newfound appreciation for the complexity and importance of STE support. We have such an important role to play in providing awareness and offering life-changing support to facilitate integration and validation in the lives of STE experiencers."
~ S.D. – New ACISTE Peer Group Facilitator
Trackback from your site.