Breakout Session: Diana DiFranco, L.C.S.W.
The STE Client's Perspective on Professional Support: Results from ACISTE Survey
Abstract
Out of 101 STE Experiencers who participated in an ACISTE survey, 72% responded that they would seek out a professional who had specialized training and/or certification in dealing with STE issues.This presentation will focus on the results of an informative and educational ACISTE survey which will help professionals gain an understanding and a perspective of an STE client's expectations when seeking professional support. We will explore the negative and positive experiences of the STE clients while seeking professional support and their perception on why the experience with the professional was negative or positive. What is the most effective way according to the STE clients' perspective to address their needs and concerns and to help them to feel supported and validated? We will answer this very important question using the results of this informative ACISTE survey.
Presenter Bio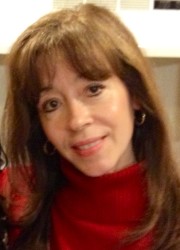 Diana DiFranco is a Licensed Clinical Social Worker. She obtained her BSW from Dominican College and her Master's Degree in Clinical Social Work from New York University in 1995. She has provided psychotherapy to children and families for more than 14 years at a mental health clinic in Connecticut with a focus on crisis intervention and Intensive Family Preservation. Diana is presently providing psychotherapy to children and adults in her private practice. Her therapeutic approach combines traditional theories and methodologies with a holistic approach encompassing an understanding of the spirit, mind and body connection. Diana describes herself as a lifelong spiritual seeker and her hunger for spiritual knowledge motivated her to study and investigate any means by which to connect to her higher self. She studied the Science of Creative Intelligence and its applications in developing higher states of consciousness at Maharishi University of Management, Fairfield , Iowa and has employed the practical aspect of this science, the Transcendental Meditation and TM Sidhis Program in her daily life since 1993.
A turning point in her personal and professional life occurred when she experienced a shared death experience at the passing of her mother. With this experience she recognized the connection between spiritual transition and the experience of transcending through her meditation practice. In both instances, she experienced the spiritual reality of complete serenity, timelessness and bliss. After this experience, Diana studied Spiritually Transformative Experiences (STEs), Near Death Experiences, (NDEs), and Shared Death Experiences (SDEs) and incorporated this knowledge into her private practice. Diana is also a support group leader for an IANDS affiliated group, the Connecticut Shorelines IANDS.
Trackback from your site.