Melissa Wolf, MA, LPCC, NBCCH, LMT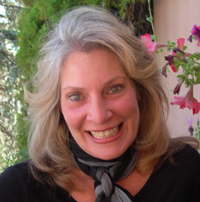 Melissa A. Wolf has followed a life path of exploration and service directed by her pre-birth memory. She has acted as spokesperson for community action and environmental groups, has been responsible for the development of nurturing educational and spiritual environments for children. While raising her sons, she served her community as a licensed medical massage therapist and cranial sacral therapist. Through her years in bodywork, Melissa became fascinated with the body/mind connection and was honored by the privilege to witness in her therapy sessions what she came to define as "sacred space". It was in this sacred space that Melissa observed miracles that helped her integrate her own spiritual experiences and information from her pre-birth memory.
The continued evolution of Melissa's work required that she become licensed as a behavioral health therapist so she returned to school at 48 years old and earned her Masters degree in Counseling Psychology with a concentration in Somatic Psychology. Her thesis was published through Prescott College in 2008 under the title Healing the Wound of Separation from Oneness. Melissa works at a non-profit community guidance center in Santa Fe, NM, as an ACT (assertive community treatment) therapist, serving adult clients struggling with basic survival needs who have become disenfranchised due to debilitating symptoms of severe mental illness.
Melissa is currently working towards certification in EEG Neurofeedback to assist others in obtaining enhanced communication between mind (consciousness) and body. In addition, Melissa practices HeartMath techniques as a means to living the One consciousness she experienced in her pre-birth memory. Since Melissa came into this life with full memory of what many refer to as heaven (but she simply calls "home) she has considerable experience with the developmental challenges of growing up with the memory and awareness of who we really are, working through the deep pain of "homesickness" for that spiritual life, as well as the passionate journey to discover one's "life purpose." Consequently, she is particularly drawn to child experiencers, but finds common ground with all spiritually transformative experiences. Melissa is committed to assisting others in both identifying and integrating the gifts from those experiences into their daily lives.